one.
recent buys
Since I posted about it twice last week I ordered
the North Face jacket
I've been googling over (and it's $100 off!) I ordered a medium since most of my North Face things run small. But when it arrived it just felt too big. They were sold out of all of the grey online (but I just checked and it's back
online
in small and large) so I called and there were 2 smalls left in all of the US and they are shipping me one and it should arrive today! I so hope it lives up to all of my dreams. With a big snow storm coming this weekend it would be so great to be warm while we are shoveling and playing outside!
This
$14 fleece tunic from Old Navy that my BFF told me about arrived and it's so cozy! I ordered it in black and wore it on Wednesday, washed it Wednesday night and wore it again on Thursday! FYI if you get it, order a size up (I got a medium!)
two.
this made me laugh this week
she is hysterical and I laugh at just about every one of her posts.
three.
recipe fails
This week was all about recipe fails. I tried the much raved about tortellini sausage soup from Christina and Natasha and I swear I followed the recipe but it was way too salty and we ended up just throwing it out. Sooooo disappointing! And then the next night my mom made us a new recipe for Chili macaroni and it had way too much cumin and chili powder and we couldn't eat that either.
Then I tried a new blueberry muffin recipe that I got from another blogger last week for our playdate on Tuesday and although I did serve them, I won't be making them again since they were too dry.
So we are officially defeated with new recipes and we'll be sticking to our tried and true for the next few weeks!
four.
dish towels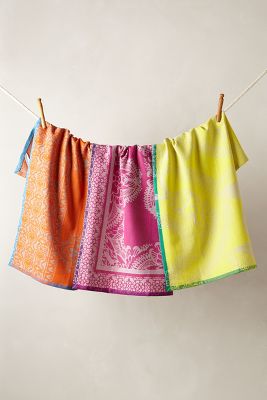 These words were actually on my Christmas list for my MIL. "Dish towels that are cute, yet absorbent" (She went solely on the cute factor and got me
this
Anthro towel)
For years I've used
these
Williams Sonoma dishtowels because they look nice and are classic and timeless. BUT...
they
are sub-par in the drying category. They aren't soft either and actually kind of scratchy. You aren't going to believe this but
these
are my current towels of choice from Walmart! They are super absorbent and soft and $5 for 4 towels. But if only they were a bit cuter to have hanging in my kitchen...
I am tempted by
these
Anthro dish towels because they are on sale for $19.95 and an additional 40% off! And although the Walmart towels are practical, I would like some that I'm proud to hang on my towel bar!
Also on a side note I hate the smell of dishtowels over time and always wash them separately from the rest of our clothes in the laundry. I have a thing with food smells.
five.
ebates
I just got this e-mail and today Gap is 40% off everything and 18% cash back- WHAT?!
I know I've talked about this before but I keep talking to people who still don't use Ebates and I don't even know why!! I'm awaiting my $80ish check coming in February! It's so easy to do and you get cash back for shopping online. You can install an
ebates
button to chrome and you just click on it before you check out. There's even a way to get cash from shopping in store.
If you don't use ebates I'd love if you'd click
my referral link
to sign up. It really is that easy to get money just for shopping online.
You get anywhere from about 2% of your total to 6% usually, but they always have double cash back deals and I got 20% cash back for my Christmas cards. So although most of my orders give me just a dollar or two, they all add up and the double cash back deals definitely make a difference.
Please click
here
for my referral link.
We're gearing up for a snowy weekend- hoping for some snowman building, hot chocolate sipping, and comfort food cooking!
Happy weekend!
PS - This post contained affiliate links, which means if you clicked on an item and made a purchase I may receive a small commission. THANK YOU for reading and supporting my blog!