I'm linking up with
Shay
and Sheaffer today for What's Up Wednesday!
What we're eating this week:
We have a routine of tacos, meatballs, baked chicken parmesan, and cheesesteak wraps for the last few weeks. Carter finally will eat all of those things and they are quick and easy so that works for us for now.
What I'm reminiscing about:
I lived in NYC for almost 5 years in my early twenties and the other day I got an iced coffee at our Starbucks drive through and it made me think how I'd walk 2 blocks in Soho to get a coffee in middle of the day while working at AVEDA.
It's crazy how that life is so foreign to me now. I loved it yet at the same time I yearned for "easier" life. I don't have to carry my laundry down the block and sit at a laundromat or carry 4 bags of groceries 3 blocks from the grocery store or drip with sweat during my walk to work (or while standing and waiting in the subway.) But do I ever miss running on the West Side Highway path and through the meat-packing district, going to drinks after work, going to fun new restaurants, getting cupcakes at all the cute bakeries, and just walking everywhere and being with friends all the time? Absolutely. Oh NYC I have missed you.
What I'm loving:
Spring!
Starbucks Cold Brew with a little cream and 2 pumps of hazelnut
What we've been up to:
Playing outside all day! It's amazing how much less TV we watch when we are constantly outside! It's so much better. I would like a gate to keep Reid a little more contained, but i'll take it while we still have a big yard and driveway!
Moving and redecorating planning! I'm having fun looking for paint colors and light fixtures (so far I like
this one
for above our table and
this one
for the foyer) and planning how we can modernize our townhouse without spending too much money since we hope to only be there for a year or two! (Who knows, we could hate it and be out sooner, or be fine and not be in a rush- we'll see!)
What I'm dreading:
School being over! I love the routine that school gives us, even though it's just 3 mornings a week. We need some sort of routine or we all go crazy!
What I'm excited about:
Moving, getting situated in our old house!
The beach! Hopefully this year we can enjoy lots of time on the beach- I won't be sitting and reading, I'm sure- probably more like running after Reid, but whatever- as long as everyone is happy!
What I'm watching:
The Affair- We just watched the first season and we're onto the second season. It's slow, but something to watch. I keep saying that the first 10 episodes must just be setting us up for the last 2 good ones!
We also recently watched Bloodline. It was slow, but entertaining too.
Counting down to the Bachelorette- FINALLY good tv is back!!
What I'm wearing:
And when I actually get dressed I've been wearing: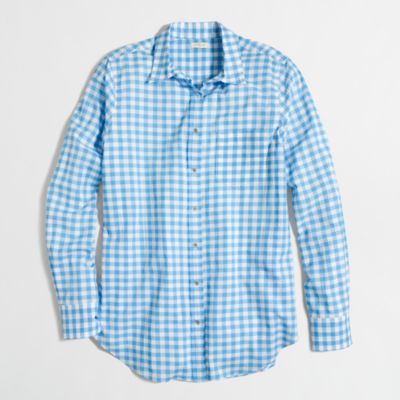 What I'm doing this weekend:
Soccer, volunteering at a school festival, 4th birthday party
What I would like to receive for mother's day:
Well I could come up with a whole wish list, but I booked a mother's day mini session with my boys. I really want some nice pictures with my boys. I'm just struggling with outfits!